Where there are lively people or situations, people who are the most fragile are often the first to discover and frequent them, reinforcing their sense of belonging to society.

Between 1970 and 1990, an oasis comparable – on a smaller scale – to the Jean Talon Market in Montreal, operated in North Hatley, a village in the Eastern Townships: it was a bakery and restaurant called Chez Dame Jacqueline. It was, according to everyone, a lively and vibrant place and therefore was always busy. It was such a vibrant place that it became the soul of this rather cold village and, at the same time, a bridge between its two linguistic communities, whose ties were nevertheless sharply tested by the political convictions of the owner and her husband, a very colourful man, full of vitality, aptly named Vital! And what shape did vitality – life – take in that place? It took the shape of bread, of brioches and other colourful pastries, spread generously across a pine table next to an aged wood stove. It looked like the red, checked serviettes, like the antique tools suspended from the walls, like Jacqueline wearing the regional dress of the Gaspé, and like her quiche Lorraine. It took the shape of green plants, blond wood, and a thousand other things that made it a place where people felt a sense of belonging. No one could define it, but everyone felt it.

The residents of the Maison Blanche, a local home for people with mental illnesses, were among the first to find this place, to adopt it, and to be adopted by it. The regulars remember Ralph, a man who said little and who smiled non-stop. He helped Vital with many small tasks, including the daily chore of bringing wood up from the cellar. Vital, who himself had known difficult times, knew that he had to use a falsely rough tone of voice when speaking to Ralph in order to put him at ease … to the point where he could act there just as he would in his own home. He was the only one who could go into the kitchens, where there was always a coffee and a pastry waiting for him. This royal treatment added something radiant to his happiness and his smile, something that made other customers happy.
Chez Jacqueline was closed over the winter, but that didn't stop the owners of the place from practicing the virtue that was their very life and breath: hospitality. They did this to such a degree and so well that a Montreal psychoanalyst was in the habit of encouraging his patients, his female patients especially, to vacation in a shelter in North Hatley, so they might have an opportunity to talk with Jacqueline and Vital. They had the time, they loved people, they knew how to put them at ease and how to listen to them – they only intervened to bring their guests back to the present moment from time to time. The story underlines how important free time is to the practice of hospitality, free time that, in this instance, followed the rhythm of the seasons – another way of bringing oneself closer to Life.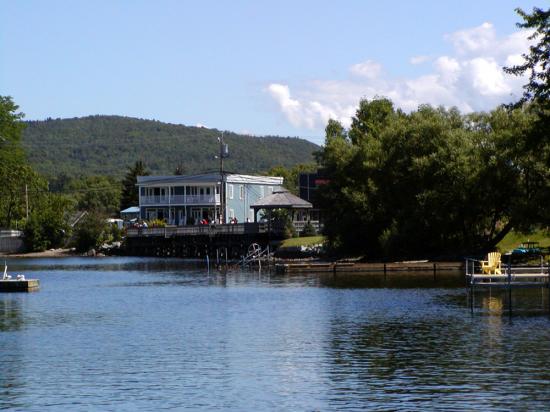 The restaurant Chez Dame Jacqueline, was in the center of Norht North Hatley, in front of Massawippi Lake.