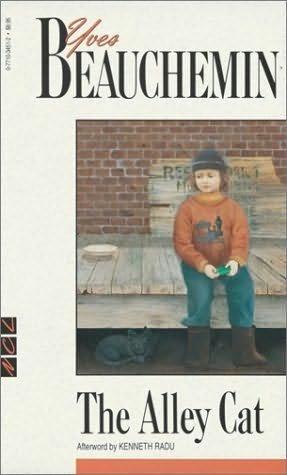 In addition to serving first-class «pâté chinois» to its working class clientele, this excellent restaurant became the beloved refuge of an abandoned child named Émile.
The french cook, Aurélien Picquot, exasperated by Émile's presence (and that of his cat), baptised this enfant terrible with the ironic nickname Monsieur Émile, a nickname that this Quebecois street urchin would adopt and impose on his entourage. Semi-abandoned by his mother, a heartless woman who worked in a bar and was so conscientious that she welcomed customers into her bed, he came to the restaurant regularly to buy meals, ostensibly for his mother, but really for his cat and for himself.
This child – left on his own, was fed beer so that he would sleep deeply, allowing his neglectful mother to work nights in a bar – this child pierced, with his first glance, the cook's harsh exterior. He succeeded in soothing Picquot, «was able to reach some untouched fibers in the old marriage victim until he'd become grumpily dependent on his young friend.»
«Aurelien Picquot had unintentionally set off a process of self-actualization in Émile that soon made him one of the restaurant`s regulars. But contrary to what might have been feared, his constant presence turned out to be surprisingly tolerable. Being "monsieur" visibly forced him to behave like a grown up, at least within the realms of possibility. He no longer picked his nose while he ate. The permanent storm that tangled his hair subsided in intensity, and more and more, his socks tended to match. Alas, only the pungent smell of urine indicated that despite his phenomenal maturity, it was still a bit hard for Monsieur Emile to get along without any maternal attention whatsoever.»1
 
For this child of the streets, La Binerie was a place of belonging all the more unexpected and powerful because it satisfied both his physical appetite and, especially, his need to be recognized, to be loved, and to love. But like every unhappy creature, he could only gradually abandon himself to this love. «One morning Monsieur Emile walked into Florent`s room, as serious as a judge. "l have to tell you something" he said in a tone that made his friend smile. He came closer and put his hands on the blanket. "You are sick on account of me, right'?" he asked defiantly. Florent frowned, surprised. ''It's beause l got up on the kitchen table the other night," the child went on without pausing for breath. "And 'cause I run in the restaurant and Iplay the tv too loud and my feet make too much noise when I get up at night to pee, right?"
His voice was quavering. A little more and tears would flow. Florent clutched his arm. "Will you tell me where you got those nutty ideas?" he laughed. "I'm sick from working too hard, that's all. And I'm glad you are here, even if sometimes I'd like to warm your backside." The little boy's face grew less anxious, but his gaze remained defiant. "My mother . . . my mother says some people can't stand kids...because they are too much work." Florent laughed again and rumpled the childs hair. "lt's true -some people are like that. But we like you a lot and as lar as we are concerned you're staying. Besides, I'm better now, can't you tell? Day after to-morrow I'll be back at the restaurant " .
Monsieur Emile couldn't bear any more. He ran out and worked off his excess emotion by hanging on a garbage can with an old typewriter carriage.» 2
 
__________________
1-Yves Beauchemin, The Alley Cat, translated bu Sheila Fischman, McClelland and Stewart, Totonto, 1994, p.82
2-Ibid. p.120