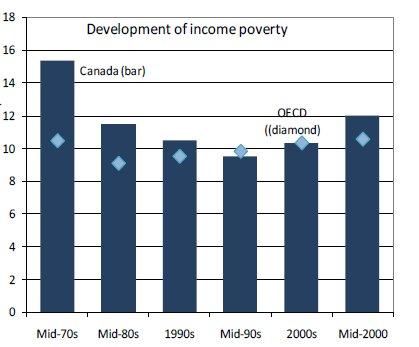 Poverty rate (% of  persons living with less than 50% of median income)


One fifth of the increase in income inequality is linked to changes in the age and household structure of the Canadian population, such as growing shares of single-parent households or people living alone.

 Inequality of household earnings has increased significantly. Only Germany saw a similar rate of increase during the past 10 years.

 Canada spends less on cash benefits such as unemployment benefits and family benefits than most OECD countries. Partly as a result, taxes and transfers do not reduce inequality by as much as in many other countries.

Furthermore, their effect on inequality has been declining over time.
Over the past 10 years poverty (meaning people who live on less than half median incomes) has increased for all age groups, by around 2 to 3 percentage points to an overall rate of 12%.