In 1961, I was invited to assist in the rebuilding of the city of Concepción, Chile, in the aftermath of an earthquake that had recently struck the region. I was 19 years old and very sure of myself. I was one of the two Canadian delegates to an international congress of students being held there. Someone had the bright idea of holding it in a city that had been the site of a disaster, and of combining the conference with a work camp. Every participant thus had the opportunity to perform concrete acts of solidarity before and after participating in discussions on the future of the planet—or rather the future of humanity—for, at that time, mankind's future and destiny were not linked to those of its habitat. In principle, we were supposed to argue endlessly in the morning and work in the afternoon. I say "in principle" because, right from the start, it was evident that there would be no crowd on the reconstruction site. Only six of the some 200 participants had brought work clothes – the two Canadians, the two Americans, and the two West Germans.
Fidel Castro had just come to power in Cuba, generating tremendous hope among students, a great majority of whom were already communist. The glorious future of a socialist utopia was just around the corner and, while waiting for it to arrive, the marxist students described contemptuously, as a microsolution, swinging the sickle and hammer on the work site. Fidel's emulators didn't seem to be able to imitate him except for his interminable speeches. The unreality of the theories that were presented as macrosolutions for the future reached such a height that I made this note in my journal: "Chile will be the cemetery of communism in Latin America."
Even the small houses being constructed with international aid money exuded a kind of Soviet dreariness; at the same time, their arrangement on bare ground reminded one of the bungalows that were being constructed in Canada, from St. John's to Vancouver, using the same rectangular model. The trip inoculated me, at one and the same time, against communism and international development.
By contrast, one memory I hold dear is that of a shack, barely six metres by two metres, located in the heart of one of the poorest barrios in Santiago. The Little Brothers of Charles de Foucauld who lived there had succeeded in giving it a soul by arranging, with impeccable taste, the few pieces of furniture and other objects they possessed. I can still see the bike propped vertically against the orange tree in the tiny yard. All their neighbours had to do to achieve these same primary conditions for happiness: life and beauty, was to share in the brothers' inspiration. Inspiration transforms the humblest of shelters into poems and, in its absence, masterpieces of design are nothing but cold and spacious prisons.
This memory helped me to understand Dany Laferrière's (winner of the Medicis Prize 2009) words to a representative of Emergency Architects (EA), who had declared that we had to move very fast and be extremely practical about rebuilding Haiti. "No," replied Leferrière, the Quebecois writer of Haitian origin, "Culture will save Haiti." People must absolutely be provided with temporary shelter, but the universal solidarity we are now witnessing allows room for hope that even this shelter might be beautiful.
How might inspiration, the most significant element of resilience, manifest itself in such circumstances? The Little Brothers of Charles de Foucauld in Chile convinced me of one thing. Since the international aid required by a devastated country, in this instance Haiti, cannot be given to the people directly, it must be routed through those foreign intermediaries that have the deepest roots among the people, and by members of the diaspora who have maintained organic links with their country of origin. This is the best rule to follow in searching out solid leaders and initiatives and, in turn, in providing them with the support they need. The most effective foreign aid is that which rewards the foremost, unplanned successes, not that which multiplies opportunities to spend blindly, nor that which is conveyed via technocratic and political channels. It takes time to discover these unplanned, "spontaneous" successes and to observe their rhythm and cycles, and donors —countries, international institutions, foundations, etc. —must stagger their contributions over a lengthy period. My friends at L'Arche and at PLAN know more about these issues than I do. I defer to them on this point, so as to return, in conclusion, to the question of beauty, and of life which expresses itself in beauty.
Two models for Haiti: Medellin and Kampala
Medellin
Medellin? How could such a city, refuge of the drug cartels, be considered a source of inspiration for other cities? In 1991, the homicide rate there was 381 per 100,000 inhabitants, for a total of 6,300 for the year (the city then had a little less than 2,000,000 inhabitants). By 2007, the rate had fallen to 26 per 100,000 inhabitants – a ninety percent (90%) reduction.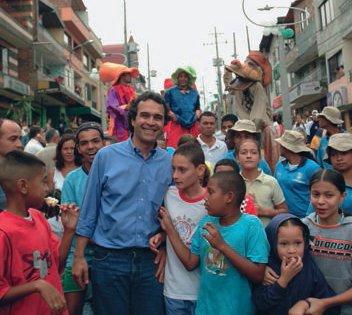 During this time, Sergio Fajardo, a university mathematics professor, surrounded by active citizens as well as architect and designer friends, had the good idea of running for mayor, with campaign ideas such as these: "The most beautiful for the most humble"! "From poverty to beauty!" Medellin incluyente! "Toward preventative justice!" "A place for microcredit!" From 2004 to 2007, Fajardo was mayor of Medellin. Today, he is a candidate for the presidency of Colombia, having launched his campaign by publishing a book about his achievements in Medellin: del miedo a la esperanza (From Fear to Hope). Anyone interested in global innovation, that is to say, in social innovation linked organically to other forms of innovation—cultural, economic, ecological—would do well to learn Spanish just to be able to read this book.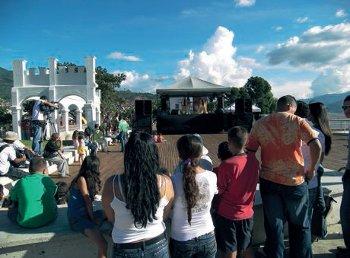 Even though it seems a bit simplistic at first glance, a bit too inspired by behaviourism, Sergio Fajardo's methods have proved effective: Reduce your crime rate and the municipality will beautify your neighbourhood by, for example, building a park library—a beautiful building surrounded by green space, a gathering place for people as well as for books and computers. "We believe," says the director of one of the parks, "That we are able to learn better when we are part of a community."
Kampala
Forty percent (40%) of the 1,200,000 inhabitants of Uganda's capital city, Kampala, live in extreme poverty. Long ago, they began to practice urban agriculture—illegally. Finally, making a virtue of necessity, in 2005, the municipality decided to legalize the practice. By that time, urban agriculture, including raising poultry, was already producing forty percent (40%) of Kampala's food supply. Not only has this proportion increased since 2005, but since Kampala was the first city in this region of Africa to legalize urban agriculture, it has attracted the attention of funding organizations, such as the International Development Research Centre (IDRC), an organization of the Canadian government. In Kampala, IDRC is now piloting "Τhe Kampala City Focus" project, directed at "building a sustainable, cohesive community through waste recycling and agro-enterprise." Here, as in Medellin, successful, unplanned achievements have been sought out and support provided to those who came up with the ideas.
For example, Jean D'Aragon, director of the project, noticed someone in Kampala who was drying banana peels and feeding them to his chickens. Analysis demonstrated that the dried banana peels provided food for poultry that was as nourishing as corn, but much less costly. Around Kampala, as in many parts of Haiti, there are deforested hills that encourage flooding and push waste from the city, including banana peels, down into the valley beds. Jean D'Aragon's team is trying to solve this problem by building on the promising initiatives of residents. Dried banana peels reduce the quantity of waste, create jobs, and reinforce local solidarity, because instead of throwing banana peels into the valley, people are delighted to give them to their ingenious neighbour.
We could discuss hundreds of initiatives of this kind currently being realized around the world—more than enough to help Haitians make good choices. Thanks to the Utne Reader, to the architectural magazine, Bomb, and to the periodical, Momentum, from the University of Minnesota which sent us off on the trail of Medellin and Kampala.
Note:
Between 2007 and 2009, the homicide rate in Medellin rose again to 62 per 100,000. The highest homicide rates in 2009 were those of Juarez in Mexico, 119 per 100,000; Caracas, 94 per 100,000; Cali, 73 per 100,000; and New Orleans, 69 per 100,000. In Canada, the 2008 homicide rate was 2.5 per 100,000 in Vancouver, 1.9 per 100,000 in Toronto, and 1.3 per 100,000 in Montreal. Source: Columbia Reports
http://colombiareports.com/colombia-news/news/7626-study-places-medellin-and-cali-among-the-most-violent-cities-in-the-world.html