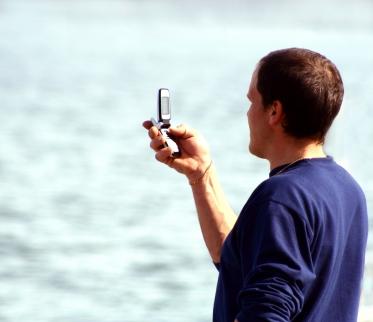 Following "dis-location" comes location, which is not the repatriation of jobs in the country of origin, but a matter of GPS and other tools that make it possible to find a person or an object at a precise moment in space and time. The anxious dad may thus follow the airplane transporting his beloved daughter to another continent. According to French psychoanalyst, Serge Tisseron, if we don't know where we are going, we want at least to know where we are. Everything is true in psychoanalysis; no doubt this is as well.
But that is cold comfort! In this new game of pinpointing location, I'm not the one who places myself. I am placed  by others. Neither my senses, nor my intelligence, nor my memory play any part in this operation. Still less do they participate in the operation of finding an airplane in the distant evening sky. I am placed, but where? In a place that is no-place and, to accomplish this, I am reduced to my contact details, to my address. I am a moving point, or rather a point that is moved. I am placed  by others in places where I am not, and in places that are no-place.
With this, we take another step in the slow and irreversible rupture of living ties with the earth and with flesh-and-blood beings. To be happy about that, it is absolutely necessary that we don't know where we are going, nor where we are. Is this how we may escape the pain of global warming?
We have, once more, a chance to make a fundamental choice: To root ourselves in one place or to succumb to the attraction of every-place, to take off like rockets. For all those poor children who take off like rockets without having set foot on the earth, there is only one wish we can have: That they may start off, walking, on an uncertain path, and allow themselves to be distracted by a waterfall, by a symphony of tree frogs, by the leap of a deer, by the scent of a balsam fir, by a current of cold air or by a warm breeze …. "We must walk: it is the most ancient form of human exercise; it is our most ancient habit. It has not been lost; it has only become weak, and we can quickly reacquire it. It is walking that distinguishes human beings, and our bodies are made for walking. Walking refreshes and fortifies the body; it soothes and rejuvenates it. Just as the body is made for walking, so too is the human spirit, for the duration of a single day and the length of a step. Nothing so suits human beings as the twilight of departure and the dawn of arrival."(Daniel Halévy, Voyages aux pays du centre)
We belong to places that we can sense, touch, see, hear. Cartesian space is paradise to machines, but hell to living beings, at least so long as they have not been reduced to mere machines.